Amazing articles (2) not because of what the minister said,
but because of the remarkable naivety of the antisemitic media,
specifically RT and the Washington Post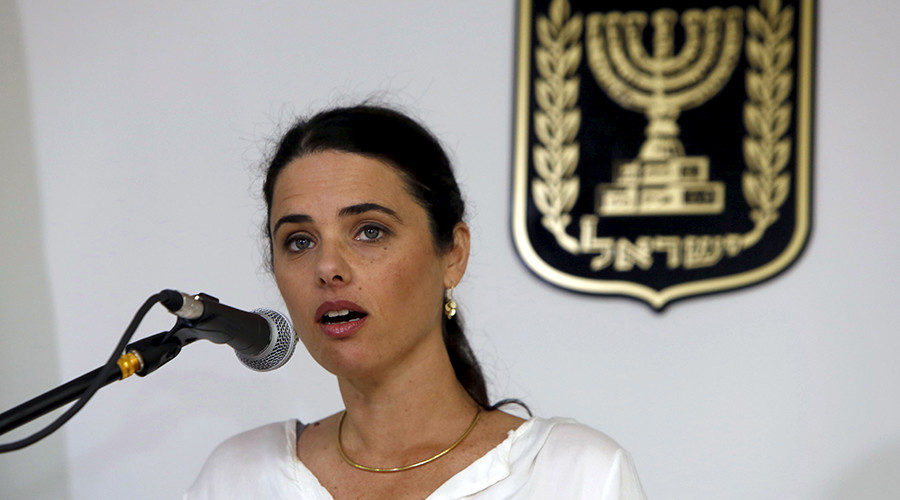 Ayelet Shaked, Israel's Justice Minister © Gali Tibbon / Reuters
30 Oct 2016 RT
Israeli Justice Minister Ayelet Shaked has accused the Boycott, Divestment and Sanctions (BDS) movement of wanting to "wipe the Jewish nation off the face of the Earth" and of being "deeply rooted in anti-Semitism."
Shaked made the remarks Sunday at the opening plenary of the Jewish Agency for Israel's latest board of governors meeting.
The board, which meets at least three times a year, is the central policy-making body of the Jewish Agency, a large nonprofit organization which says it aims to "connect the global Jewish family."
Addressing the board in Jerusalem, Shaked warned
"all those agents of ignorance and hatred" against testing Israel's strength and determination to defend the Jewish state, according to the Jerusalem Post.
The BDS movement is a global campaign, first launched in Palestine in 2005, to apply political and economic pressure to end Israel's occupation of Palestinian territories.
Shaked, however, insisted that the campaign has "no interest in promoting human rights, but in wiping the Jewish nation off the face of the Earth."
She also referred to the movement as anti-Semitism dressed up as a platform for freedom and justice.
"It's deeply rooted in classical anti-Semitism that has spread all over Europe throughout the past few hundred years," she said.
The justice minister also claimed
the movement was "defeated"
and referenced a Bloomberg report from June on foreign investment in Israeli assets.
Foreign capital flow in the country has nearly tripled since the launch of the BDS movement 11 years ago,
with investments reaching a record high of $285.12 billion, according to the Bloomberg article.
Shaked is renowned for her anti-Palestinian rhetoric and sparked controversy in July 2014 before she became justice minister for a Facebook post, later deleted, referring to Palestinian children as "little snakes" and apparent warmongering.
She had quoted a former Israeli writer who was referring specifically to children who attack and murder Jews just out of hatred bred into them by their families and friends. RT makes it sound like she refers to all Palestinian children as such, which is not correct and reveals RT's bias.
"This is a war. It is not a war against terror, and not a war against extremists, and not even a war against the Palestinian Authority. These too are forms of avoiding reality. This is a war between two people. Who is the enemy? The Palestinian people. Why? Ask them, they started...,"
she wrote.
Again, this is a quote. See below.
Washington Post WorldViews
Israel's new justice minister considers all Palestinians to be 'the enemy'
By Ishaan Tharoor May 7, 2015
Ayelet Shaked of the Jewish Home party is known for her strident views on Palestinians and the Israeli left. (Tsafrir Abayov/AP)

An 11th-hour deal on Wednesday led to Israeli Prime Minister Benjamin Netanyahu forming the most right-wing government in his country's history. Netanyahu's slim majority in the Knesset, the Israeli parliament, was secured after a pact with

the Jewish Home party, led by Naftali Bennett, an ultra-nationalist who draws much of his support from Israel's settler population and rejects a two-state solution to the Israeli-Palestinian conflict.

And he does that because Palestinians don't want a 2 state solution, they want Jews gone.

One of the terms of the alliance was that Netanyahu would tap Bennett's de facto lieutenant, Ayelet Shaked, to be the next justice minister. This is a move not without controversy. Shaked is known for her strident (some would say extremist)

(those 'some' would be RT and The Washington Post, just to name a couple)

views regarding Palestinians and the enfeebled Israeli left. In July, in a controversial post on Facebook, the then-member of the Knesset posted the text of an article by the late Israeli writer Uri Elitzur that referred to Palestinian children as "little snakes" and appeared to justify the mass punishment of Palestinians living under Israeli occupation. The post has since been deleted,

but an archived version remains.

It was put up shortly after the discovery of the bodies of three Israeli teens kidnapped last year while hiking in the West Bank. Their killing eventually escalated into a 50-day war in which Israel pummeled the Gaza Strip, a Palestinian enclave dominated by the militant Islamist group Hamas, which launched barrages of rocket fire at Israel. The Gaza war killed more than 1,400 Palestinian civilians and reduced whole swaths of the impoverished territory to rubble.

The leftist site Mondoweiss offers a full translation of Shaked's controversial posting, which quotes Elitzur, a former Netanyahu adviser, here. Some excerpts:

The Palestinian people has declared war on us, and we must respond with war. Not an operation, not a slow-moving one, not low-intensity, not controlled escalation, no destruction of terror infrastructure, no targeted killings. Enough with the oblique references. This is a war. Words have meanings. This is a war. It is not a war against terror, and not a war against extremists, and not even a war against the Palestinian Authority. These too are forms of avoiding reality. This is a war between two people. Who is the enemy? The Palestinian people. Why? Ask them, they started...
Behind every terrorist stand dozens of men and women, without whom he could not engage in terrorism. Actors in the war are those who incite in mosques, who write the murderous curricula for schools, who give shelter, who provide vehicles, and all those who honor and give them their moral support. They are all enemy combatants, and their blood shall be on all their heads. Now this also includes the mothers of the martyrs, who send them to hell with flowers and kisses. They should follow their sons, nothing would be more just. They should go, as should the physical homes in which they raised the snakes. Otherwise, more little snakes will be raised there.

So it is obvious Elitzur was talking about terrorists here not every Palestinian child. The mention of destroying the homes of such terrorists as opposed to destroying the homes of all Palestinians makes that very clear.

Even if these aren't Shaked's own words, the sentiment is noteworthy, and it reflects what critics say is the Israeli nationalist right's widespread intolerance of the Arabs in their midst, who make up one-fifth of the Israeli population.


So, why does The Washington Post insist on bending that quote to refer to all Palestinian children? Did the Editor simply overlook this piece of antisemitic trash or was he/she in agreement with it? Either way, it reflects very poorly on journalistic ethics and honesty.

Bennett and Shaked's Jewish Home party are avowed opponents of Palestinian statehood. Bennett's proposal for settling the "Palestinian question" involves the creation of semiautonomous territories that some have likened to the bantustans of apartheid-era South Africa.

Again, who are the 'somes' referred to here?

Shaked's appointment as justice minister also has raised fears that Netanyahu's new government will attempt to rein in the Israeli judiciary, as my colleague William Booth reports. Some are rather worried about what may follow.

"The demand to give Ayelet Shaked the Justice portfolio is like giving the Fire and Rescue Services to a pyromaniac," opposition lawmaker Nachman Shai

told the Arutz Sheva news site.

OK, it's been nearly a year and a half and I'm still looking for signs of smoke!

Shaked, a photogenic former tech executive, doesn't seem too bothered about the opinions of her opponents. She once dismissed Haaretz, arguably Israel's most internationally respected newspaper, as a publication "read by a mere 30,000 Israelis."

Oh, no! She didn't say that, did she? She ought to be tried for treason, obviously! Good grief!

After all, Shaked is about to gain a cabinet post in a climate in which

an Israeli former foreign minister can call for the "beheading" of disloyal Arabs with no political cost

and in which warning of Arabs "voting in droves" helped Netanyahu's Likud party win Israel's general election earlier this year.

That's the difference between Israel and many of the Arab countries around them, 1) free speech, 2) free criticism, 3) an Israeli can call for beheading though it would never be taken seriously, but in Iran, Saudi Arabia and who knows how many Muslim countries, it's a frequent occurrence sanctioned by the government.

Yet, here, the Washington Post writer criticizes Israel for not condemning the man for mentioning it; rather than praising Israel for not adopting tactics that are more fit for Islam.

"Shaked is going and taking her place in the pantheon of the extreme right," says leftist Israeli legislator Michal Rozin, "and represents an ideology where her own racism doesn't embarrass

her."

Rozin must be one of these 'somes'! So, the question here for Mr. Rozin is, would you be racist if you hated Nazis? Is it 'extremist' to hate people who want to kill you and everyone who is a Jew. Are you too dense to see that if the Palestinians had the capability of the 1930s-1940s Nazis, that they would surely try to accomplish the very same thing, the annihilation of the Jewish race?