Dutch ex-PM calls visiting Netanyahu 'war criminal' amid anti-Israeli protests in The Hague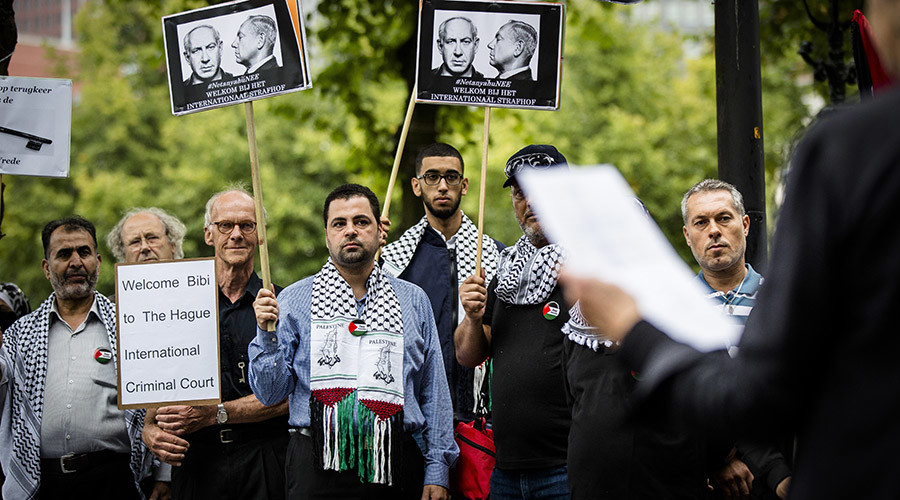 People demonstrate against the visit of Israel's Prime Minister Benjamin Netanyahu in The Hague, on September 6, 2016. © Bart Maat / AFP
Instead of rolling out a welcome mat for Israel's PM Benjamin Netanyahu, who kickstarted his visit to the Netherlands on Tuesday amid huge pro-Palestine protests, the Dutch should "send him right away to the International Criminal Court," Dries Van Agt said.
Is this picture an example of the 'huge' protests? I count 8 bodies.
Ahead of Netanyahu's two-day visit to the country, V
an Agt, who served as Dutch PM from 1977 to 1982, labelled the Israeli leader a "war criminal"
in an televised interview with the NPO1 national TV channel on Monday.
The 85-year old politician and activist, known for his vocal support of the Palestinian cause, defended his controversial remark by saying that Israel has been committing a crime under the Rome Statute, one of the foundations of the International Criminal Court.
"The occupation and expansion… building of settlements, of occupied territory, this is according to the Rome Statute, which is… the setup… the statute on which the international criminal court is based, in so many words, a war crime,"
Agt noted in an interview, as cited by the Times of Israel.
The Rome Statute, which has been effective since July 2002, outlines four key international crimes, including crimes of aggression, war crimes, genocide and crimes against humanity. Military occupation falls under crimes of aggression category.
Israel signed the treaty in December 2000, but did not ratify it. In 2002,
Israel along with the US "unsigned" the document blaming the court of misinterpreting the law and "inventing new crimes."
One of the primary concerns was
the clause allowing Israel to be prosecuted for war crimes for "transfer of parts of the civilian population of an occupying power into occupied territory."
That's just absurd and shows how the UN is controlled by antisemitism. It was obviously written specifically to prosecute Israel.
Netanyahu, who met with Dutch PM Mark Rutte and King Willem Alexander during the first day of his visit on Tuesday, should not be treated like a much-anticipated guest by the authorities, but quite on the contrary, Agt argues.
"So why should we receive someone who continues with such things, we could have sent him right away to the International Criminal Court, that would have been better."
Van Agt has courted controversy with his bold statements in the past. In 2008, the former PM, who stood on pro-Israel positions during his time in office, confessed that
he was "ashamed" of siding with Israel during his tenure. As an eye-opener for him served a 'horrendous" story of a Palestinian student humiliated by the IDF soldiers he heard on a visit to Bethlehem in 1999.
And he actually believed it? You can't believe anything that comes out of Palestine. They will say anything to turn the world against Israel and, unfortunately, there is no shortage of fools to believe them.
Palestinians teach kindergarten age children to hate and aspire to kill Jews. That's not a problem for you Van Agt? How many UN resolutions were issued about this extreme child abuse? Any?
It's hardly believable, a student gets humiliated while suicide bombers are blowing up Jews in restaurants, and all he can think of is the student. You need a serious 'reset' Van Agt!
"I began studying, figuring out what's going on there.
I found one story after the other.
Then I started thinking about the 39 United Nations resolutions begging, demanding and imploring Israel to vacate the Occupied Territories," he said in an interview to Haaretz, adding that
his sudden political U-turn made his critics think that he is not "fully in my right mind anymore".
I have to agree with his critics. You don't think 39 resolutions against Israel is absurdly excessive? How many dozens of resolutions did the UN issue against Russia for invading Chechnya? That was an extremely violent act of aggression, it surely deserved many more UN resolutions than Israel building homes in the West Bank. So far, I've found one!
The issue here is that Israel does not consider the West Bank and Golan Heights to be occupied territory, but disputed territory captured in a war that Israel did not start or want. The West Bank was under Jordanian control, the Golan Heights under Syrian control. Both of those countries attacked Israel. Why on earth should they ever give it back to them? So they can have another go at destroying Israel?
While politicians of his own Christian-Democratic Appeal party prefer to distance themselves from Van Agt's rhetoric, thousands of activists gathered in front of the Dutch Parliament on Tuesday to protest the arrival of the Israeli leader and show solidarity to Palestine. The protesters were waving Palestinian banners and placards reading, "Netanyahu Not Welcome."