People stand on the rubble of a school destroyed by a Saudi-led air strike in an outskirt of the northwestern city of Saada, Yemen September 14, 2016. © Naif Rahma / Reuters
In five of the last 18 months of the Saudi-led war in Yemen, the coalition hit more non-military than military targets, a Guardian study has revealed. Overall more than one-third of all strikes ended up hitting civilian sites including hospitals, schools and mosques.
After analyzing public source data for some
8,600 air raids
conducted by the Saudi-led coalition between March 2015 and August this year, the Yemen Data Project concluded that
only 3,577 sites were of a military nature. Some 3,158 were listed as non-military, while 1,882 strikes were classified as unknown,
the Guardian said in its analysis of the data.
Furthermore, the data which has been collected from open sources and cross-referenced by the NGO using a wide range of information showed that
Saudis flew 942 air raids on residential areas
. The planes managed to strike
114 markets, 34 mosques, and 147 school buildings, in addition to 26 universities.
The information also revealed that Riyadh targeted transportation network, striking some
37 transport sites.
The Yemen Data Project said that the coalition hit more non-military sites than military in five of the last 18 months, with some target areas being struck on multiple occasions.
One particular school was hit nine times, a deplorable fate that is shared by one market that was hit at least 24 times.
Saudi Arabia which has been repeatedly called to world attention over its indiscriminate bombings of civilian targets dismissed the report, with Saudi Foreign Minister Adel al-Jubeir telling the Guardian that the figures are "vastly exaggerated."
He blamed the Houthi fighters of turning civilian buildings such as schools and hospitals into "command and control centers" and "weapons depots" that no longer made the sites civilian targets.
"They are military targets. They might have been a school a year ago. But they were not a school when they were bombed,"
he said.
This would be a tactic they learned from Palestinians to garner sympathy from foreign press with children paying the cost with their lives. However, the evidence shows that Saudi repeated strikes on markets and hospitals, and the number of child casualties are intended to kill civilians, children included. It has the hallmarks of ethnic cleansing in my opinion. See:
Saudi-led coalition airstrikes #1 cause of civilian deaths in Yemen – UN body
- below
The Guardian revealed the findings at a time when UK's International Development and Business committees urged London to suspend arms sales to Saudi Arabia. The Kingdom is the second largest purchaser of British weapons importing some $3.7 billion worth of arms since the bombing of Yemen began. Opposition parties have blamed the ruling elite for not dealing with the matter and not stopping arms transfer to the Kingdom
"It's sickening to think of British-built weapons being used against civilians and the government has an absolute responsibility to do everything in its power to stop that from happening," the UK's shadow defense secretary, Clive Lewis, told the Guardian.
A man shows damage at a house destroyed by a Saudi-led airstrike in Yemen's capital Sanaa © Mohamed al-SayaghiBritish MPs denied vote on Saudi arms sales ban, while US senators propose boycott
Lawmakers in the US are also calling to ban arms sales to Riyadh after Saudi-led bombing campaign continues to receive worldwide condemnation for its conduct from human rights groups and the UN.
"Selling $1.15 billion (£870 million) in tanks, guns, ammunition, and more to a country with a poor human rights record embroiled in a bitter war is a recipe for disaster and an escalation of an ongoing arms race in the region," Republicans Rand Paul said earlier this week.
Last month 64 members of the House of Representatives signed a letter urging President Barack Obama to delay the sale after the State Department approved the potential delivery of more than 130 Abrams battle tanks, 20 armored recovery vehicles and other equipment to Saudis.
Washington justified the sale as the means to secure long-lasting peace in the region, without altering the "basic military balance in the region."
"This proposed sale will contribute to the foreign policy and national security of the United States by helping to improve the security of a strategic regional partner which has been and continues to be a leading contributor to political stability and economic progress in the Middle East," Security Cooperation Agency said in the press release.
Saudi Arabia sent troops to Yemen to restore ousted Sunni president Abd-Rabbu Mansour Hadi to power in March 2015. The intervention claimed the lives of at least 10,000 people, including almost 4,000 civilians, according to conservative UN estimates. The majority of victims were killed in airstrikes. Peace talks mediated by the UN which aimed to bring hostilities to an end faltered last month and fighting continued.
Saudi-led coalition airstrikes #1 cause of civilian deaths in Yemen – UN body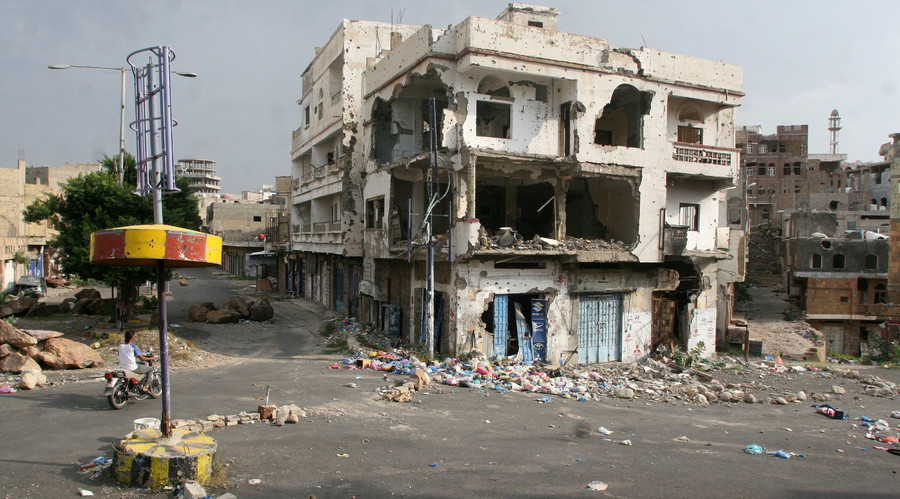 A damaged building is pictured in the war-torn southwestern city of Taiz, Yemen August 17, 2016. © Anees Mahyoub / Reuters
Airstrikes carried out by the Saudi-led coalition in Yemen are responsible for the majority of civilians killed in the country's ongoing conflict, the UN has found, while calling for an international investigation into the coalition's violations there.
"OHCHR has documented incidents in which air strikes by the coalition forces had an impact on localities with a high concentration of civilians, including markets and residential areas, as well as on events such as wedding ceremonies, frequently incurring high casualties and causing substantive infrastructural damage," the Office of the United Nations High Commissioner for Human Rights said in a report.
"The cases monitored by the Office indicate that air strikes were the single largest cause of casualties," the report published on Thursday states. "The prolonged duration of the conflict has strongly heightened the disastrous risk of a systemic collapse of Yemen."
According to the UN's human rights office, an estimated 3,799 civilians have been killed since the Saudi-led airstrikes began in March of 2015. The UN and rights groups estimate that at least 9,000 people have died overall, and 6,711 people have been wounded in the conflict.
UN High Commissioner for Human Rights Zeid Ra'ad Al Hussein has called for an international investigation into the violations committed by the Saudi-led coalition, saying that a national commission had failed to succeed in pursuing those responsible.
Speaking during a news briefing in Geneva, Mohammad Ali Alnsour, chief of the Middle East and North Africa section of the UN's human rights office, said: "The coalition had shared with us their internal investigation. And our observation as an office [is] we need to see more transparency in terms of these investigations."
"The compensation of the victims is an important element, but it is not the only element. We think there should be a kind of accountability and these violations not to be repeated again," he added.
The UN's 22-page report also condemns the recruitment of child fighters in Yemen, as well as suspected US drone strikes and attacks on human rights defenders. The office also accused the Saudi military of dropping cluster bombs in Yemen's residential areas.
Tensions in Yemen escalated after Shia President Saleh was deposed in 2012 and his Houthi supporters – reportedly aided by Iran – eventually seized the capital city of Sanaa in 2014. Houthi forces then advanced from Sanaa towards the south, seizing large parts of Yemen and sending current Sunni President Abd-Rabbu Mansour Hadi into exile.
In March of 2015, the Saudi-led coalition began airstrikes in order to stop Houthi advances and reinstate Hadi to power. By late summer of that year, Saudi-led forces had launched a ground operation as well.
Yemen's civil war has cost the country $14 billion so far, according to a confidential joint report compiled by the World Bank, UN, the Islamic Development Bank, and the European Union.
The most recent strike by the Saudi-led coalition took place on Saturday, when jets struck Sanaa during a rally attended by some 100,000 pro-Houthi rebels and sympathizers of ex-President Saleh.
Earlier this month, at least 11 people were killed and 19 others injured in an airstrike that targeted a hospital in northwestern Hajjah province, according to Doctors Without Borders (MSF).
Also in August, at least 10 children were killed and almost 30 injured at a school in northwest Yemen, MSF reported. That strike was also blamed on the Saudi-led coalition.
Just days before the school strike, at least nine people were killed in a Saudi-led coalition airstrike in Sanaa that was reported to be the first in recent months.
Speaking on the atrocities committed against civilians in Yemen, human rights activist Lama Fakih, a senior crisis adviser at Amnesty International, told RT that her organization has called for a range of consequences against the Saudi-led coalition for its "unlawful attacks."
"We have seen for example attacks against schools rendering them unusable so that children have not been able to start the academic year. We've seen the Saudis also use a banned cluster munitions which act as landmines when they are left in civilian areas and are particularly problematic for children, who mistake them for toys and move them around and end up being causalities of this weapons," she said.
The UN has condemned the actions of the Saudi-led coalition before releasing its Thursday report. In January, it slammed Riyadh for carrying out "widespread and systematic" assaults on civilian targets.
However, in a surprising and controversial move in June, the UN removed Saudi Arabia from a blacklist of children's rights violators, even after a report found that the Saudi-led coalition was responsible for hundreds of child deaths in Yemen. UN Secretary-General Ban Ki-moon later admitted that the decision was made after threats were received from a number of countries.