BAE evicts anti-Saudi protesters from shareholder AGM
Roger Carr, Chairman of BAE Systems. © Toby Melville / Reuters
BAE Systems evicted two shareholders from its AGM on Wednesday when they protested the firm's sale of arms to Saudi Arabia, which they claim were used to commit war crimes against innocent Yemeni civilians.
The shareholders-come-activists who are affiliated with
Campaign Against Arms Trade (CAAT)
staged the intervention after the arms giant's chairman Roger Carr took the stage.
Just five minutes into his address, the pair stealthily walked to the front of the room carrying placards denouncing BAE's complicity in Saudi Arabia's brutal military campaign against Yemen.
The posters, which were visible for all present to see, bore the caption:
"900 children killed in Yemen. Stop arming Saudi Arabia!"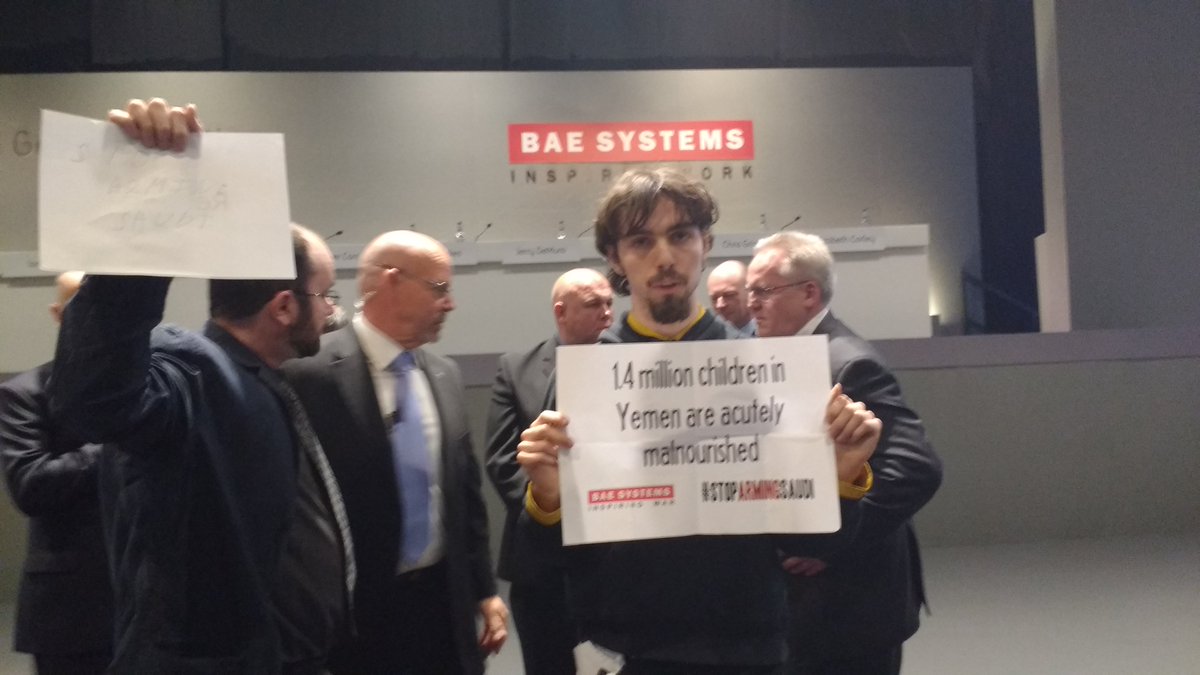 'Blood money'
Hannah Brock, 30, who was dragged out of the AGM by security staff soon after the intervention, told RT the pair's actions were justified.
"BAE Systems is one of the biggest arms dealers in the world. The firm doesn't just profit from war, it incentivizes it,"
she said.
"The only time that BAE are legally obliged to face public scrutiny is at their AGM. It is our only chance to question the firm."
Brock, who is a Right to Refuse to Kill program worker at global antimilitarist network War Resisters' International, went on to explain
she and her fellow campaigner felt compelled to draw attention to BAE's complicity in grievous violations of international law.
"It's particularly vital BAE is challenged on
Saudi Arabia's horrendous human rights abuses, as it continues to bombard Yemen, causing an enormous death toll,"
she said.
The anti-arms activist accused Britain's Tory government of protecting and supporting the arms giant.
She called on MPs to implement an "outright embargo" on UK-Saudi arms sales and for a prompt inquiry into Britain's role in alleged Saudi war crimes against Yemeni civilians.
Roughly 30 activists linked to CAAT had purchased shares in BAE to gain access to the AGM. They reportedly brought in a range of banners bearing quotes from people who had experienced airstrikes in Yemen, which they displayed to other shareholders. Some were dressed in black, red gloves and black veils for theatrical effect, while others questioned BAE representatives heatedly over the firm's complicity in Saudi-led human rights abuses.
Saba Jallas turns horror into art in an attempt to maintain sanity as Saudi Arabia pulverizes Yemen
https://www.facebook.com/sabajallas2015/?fref=photo
'Serious breaches of international law'
Britain's cross-party international development committee demanded an independent international inquiry into serious human rights breaches committed by all sides in the conflict in Yemen on Wednesday.
The move will likely anger UK Foreign Secretary Philip Hammond, who previously rejected global condemnation of Saudi Arabia. The Gulf state is a close British ally.
In 2015, a Saudi-led coalition began a military assault on Yemen in a bid to influence the outcome of its bloody civil war. Leading a coalition of nine Arab nations, Saudi Arabia launched airstrikes in Yemen in late March of that year and imposed an aerial and naval blockade.
There is a little more to it than that! The Houthi uprising is being supported, if not encouraged by Iran which is attempting to expand its influence in the Middle East. Yemen is a proxy war between Saudi Arabia and Iran, ie between Sunni and Shia Muslims.
The military campaign, which has caused large-scale bloodshed and human suffering, targeted Yemen's Houthi population and a number of allied insurgent groups who support former Yemeni president Ali Abdullah Saleh.
The intervention has been described as a humanitarian catastrophe by human rights experts, including key United Nations (UN) officials. By July 2015, the UN had described the humanitarian situation in the war-torn state as a "Level 3" emergency – the highest emergency level it ascribes.
A report published in September 2015 by the UN High Commissioner for Human Rights (OHCHR) found that
close to two-thirds of Yemeni civilians killed since March 26, 2015, had perished as a result of the Saudi-led airstrikes.
The following August, the UN special representative of the secretary-general for children and armed conflict said
73 percent of the hundreds of Yemeni children killed since the Saudi-led military campaign began had died as a result of Saudi-led airstrikes.
BAE's stake in Saudi arms market
BAE's AGM kicked off at 1100 BST and was held at a conference center in Farnborough, Hampshire.
Saudi Arabia is the arms giant's third biggest market, according to CAAT. Large-scale arms sales date back decades and include BAE's Tornado and Typhoon combat planes, which are being used in Yemen.
In 2016, 22 BAE Hawk aircraft were contracted to Saudi Arabia. The arms giant also brokered a mammoth £1.6 billion deal with the Gulf kingdom in 2012, involving the supply and support for 22 Hawk aircraft and 55 PC-21 Pilatus training combat planes.
BAE also employees 5,300 staff in Saudi Arabia, who support the Royal Saudi Air Force (RSAF) and the Royal Saudi Naval Force (RSNF).
RT asked BAE Systems to comment on why shareholders had been removed from the AGM. A spokesperson for the arms giant initially declined to confirm or deny the incident had occurred.
A second spokesperson for the firm later said: "There were a number of protesters removed from the meeting today. The AGM is the one time in the year that shareholders have the opportunity to hear from the board and ask questions about the business and we welcome all those who want to do that in a way that is courteous to other shareholders."
BAE Systems chairman Roger Carr and CEO Ian King used the event to review the firm's financial performance in 2015.
"Whilst economic and geopolitical conditions remain volatile, we have started the year with good momentum and the business is performing well," King said.
"In 2016 and beyond, we are well placed to continue to generate attractive returns for shareholders."
No kidding! The inventory of death is moving very nicely. You must be quite happy.