Hans-Georg Maassen
German intelligence chief: around 90 mosques
'under surveillance'
The head of Germany's internal intelligence agency has said that scores of mosques are being closely observed. The agency, the BfV, is holding a symposium analyzing the threat posed to Germany by the "Islamic State."
Currently, around 90 mosque communities in Germany are under surveillance and many of them are "predominately Arabic-speaking,"
the president of Germany's domestic intelligence agency (BfV) said in an interview on Monday.
"We are concerned that there are many Islamic mosques in Germany that we also need to examine,"
Hans-Georg Maassen told German public broadcaster ARD's "Morgenmagazin."
Belivers attend the Friday prayer at a mosque of the Lahore Ahmadiyya Movement for the Propagation of Islam in Berlin
Maassen said that
many of the mosques and communities in question were so-called "backyard mosques" where "self-proclaimed imams, self-proclaimed emirs" rally their followers to deliver "hate-speech" and where they also "incite jihad."
However,
the intelligence chief strongly cautioned against "throwing Muslims and religious extremists into the same pot."
"What we need here in Germany is a coalition against extremism," Maassen said. "And for that, we need the Muslims in Germany - the moderates - who want to fight with us against extremism on the basis of our constitutional order."
Jaafar's video blog #11: 'We are always treated as suspects'
As for the reasons behind the targeted surveillance measures, Maassen said that they were investigating links to the terrorist group "Islamic State" (IS). "Naturally, we are looking into IS," he said.
Maasen said that while his organization was monitoring religious and political extremists, "what we're not monitoring, are the Muslims in Germany."
Maassen's comments prefaced Monday's BfV intelligence symposium in Berlin, which is focusing on the threat IS might pose Germany. Representatives from police and intelligence agencies are involved, also discussing counterterrorism measures.
"Islamic extremism, and jihadism in Germany is not possible without al-Quaeda and IS,"
said Maassen.
In April,
Maassen admitted that authorities underestimated IS strategies to enter the country.
Maassen warns of increased threats
and demands increased powers
In a speech at a symposium on security in Berlin on 2 May, the head of the Federal Office for the Protection of the Constitution (BfV) Hans-Georg Maassen warned of
"the deteriorating security situation in Germany, "adding that the political climate of the country was" much more difficult "now than before, in terms of the radicalization of the Germans and the activity of Islamist groups operating in Germany.
"For the Federal Office for the Protection of the Constitution,
it is clear that Daesh wishes to launch attacks against Germany and German interests
," noted Hans-Georg Maassen, quoted by Bild , adding that
the agency was receiving at least four daily intels on possible jihadist attacks in Germany.
The official stressed that the threat posed by Islamists in Europe should not be underestimated because Daesh "established a command structure and cells in Europe to prepare and conduct terrorist attacks."
Of the 800 German jihadists believed to have joined the ranks of Daesh in Syria, about 260 trained militants have returned to Germany and now pose a huge security challenge,
according to the agency's data.
Hans-Georg Maassen recalled that
some jihadist fighters have infiltrated Europe among migrants as was the case with Daesh four suspected members arrested in a shelter in the Austrian city of Salzburg in December, or with two attackers Paris attacks, which reached the Old Continent via the Balkan route.
German intelligence head admits 'misjudgment'
on 'Islamic State' strategy
The chief of Germany's internal intelligence agency has said that authorities wrongly evaluated "Islamic State" strategies to enter the country. He has called the national security situation in Germany "very serious."
Security officials initially believed it was unlikely that "Islamic State" terrorists would use the recent influx of refugees to enter the country, Germany's domestic intelligence agency (BfV) head told a Sunday newspaper.
"We thought that the risk was simply too high," Hans-Georg Maassen told the German newspaper "Welt am Sonntag." "Although they did not need to mix their people among the refugees, they did it," he added, calling the move
"a show of force."
Around 70 percent of refugees entering Germany do not have a valid passport and are registered based on the information they provide.
"I am concerned that we (the BfV) and our partner agencies may, in fact, have information about dangerous individuals saved in our databases. However, we might fail to notice that they are here because they enter with false identities.
When it comes to "IS," there was still much to learn, he said.
"IS" isn't just using the refugee crisis to enter the country: radical Islamists in Germany are also actively trying to win over newly arrived refugees. Maassen said the BfV was aware of around 300 attempts from conservative Salafists and other Islamists to recruit refugees.
There are now some 7,900 Salafists living in Germany. The term (based on the Arabic word "salaf," or ancestor, referring to the first three generations of Muslims that began with the prophet Mohammed) is an umbrella term for an "Islamist ideology formed by Wahhabism, which orientates itself by the ideas of the first Muslims and the early Islamic times." The word Wahhabism, in turn, comes from the 18th century Arab scholar Muhammad Ibn Abdalwahhab, whose purist ideas went on to determine the political regime of Saudi Arabia.
In other words - these are fundamentalist Muslims who take the Quran literally. Literally taken, the Quran promotes lying to and murdering any non-believer as an act of great sacrifice and reward. It also promotes whipping, stoning, beheading, the cutting off of hands, pedophilia, and sexual slavery. It abhors free speech and criticism is harshly punished.
"I'm particularly concerned about the many unaccompanied minors - this group is being deliberately targeted," Maassen said in the interview, adding that he saw a "huge radicalization potential" in these attempts to recruit people.
There have also been several cases where Germans returning from Syria were connected to uncovered attack plans. He said that the danger of German jihadists remains "virulent."
When asked how many Islamists in Germany were considered to be highly dangerous, he said there were around 1,100 people who were viewed as possible terrorism risks.
Maassen also warned that the security situation in Germany was "very serious" in light of a propaganda video released by "IS" on Tuesday which named the German capital, Berlin, as a possible target.
However, the intelligence head added: "At the moment we don't have any knowledge of any concrete terrorist attack plans in Germany."
German spy chief Gerhard Schindler sacked
in surprise move
The dismissal of the foreign intelligence boss comes as fears grow about an Isis attack in Germany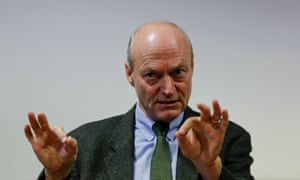 Gerhard Schindler is expected to be replaced by Bruno Kahl, an ally of Germany's finance minister. Photograph: Fabrizio Bensch/Reuters
Reuters in Berlin
The head of Germany's BND foreign intelligence agency is being pushed out of his job, government sources have said, in a surprise move that comes at a time when Germany faces a growing threat from Islamic militants.
It was not immediately clear why Gerhard Schindler, who has led Germany's version of the US Central Intelligence Agency since 2012, was being removed two years before he reaches retirement age.
Schindler, 63, came under pressure a year ago when it emerged that
the BND had gone against German interests and spied on European partners at the request of the US National Security Agency.
But he appeared to have weathered that scandal after promising to centralise control over BND field offices, which he admitted had taken on a "life of their own".
Schindler's dismissal comes after Islamic State militant attacks in Brussels last month and in Paris last November raised questions about European intelligence cooperation. Germany, which has not suffered a major attack by Islamic militants on its soil, is supplying weapons and logistical support to local forces fighting the militant group in Syria and Iraq and has been declared a primary target.