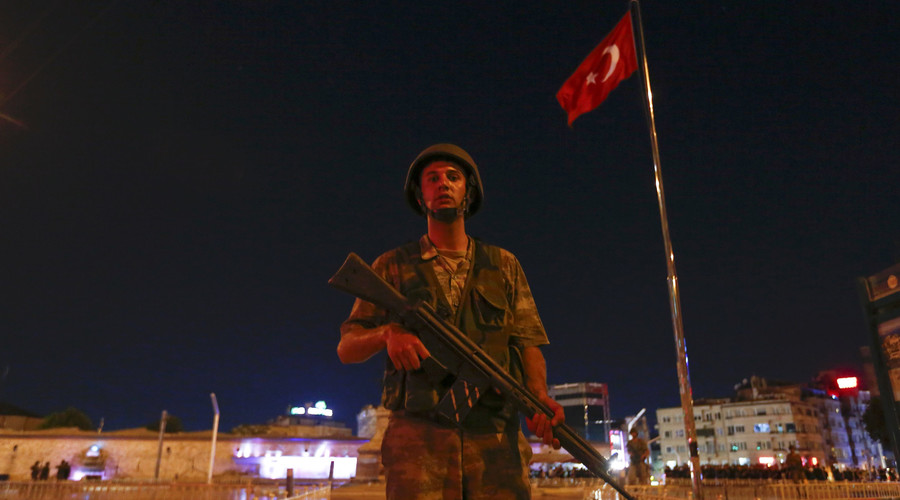 A Turkish military stands guard near the Taksim Square in Istanbul, Turkey, July 15, 2016. © Murad Sezer / Reuters
The Turkish military have reportedly broken into the headquarters of state broadcaster TRT. Photos posted on social media show soldiers inside the offices.
After seizing the channel, Turkish Armed Forces broadcast a statement declaring martial law and announcing that they had "completely taken over the administration" with the aim of "reinstat[ing] constitutional order, human rights and freedoms."
The army also announced that a new constitution would be adopted and a "Peace Council" will now govern the country.
TRT's broadcast cut off after the statement was aired.
This is an astonishing development. Erdogan had been replacing top military personnel with Erdogan-friendly people. There are reports that he was about to replace more. That may be one of the catalysts for this coup.
Certainly, history has the military replacing governments in Turkey when they became too Islamic. In fact, modern day Turkey was formed by a military coup as Attaturk ended the Ottoman Empire immediately after the first world war.
military presence at TRT
Attaturk determined that Turkey should be governed in a secular manner, not Islamic. The military has held up that ideal for nearly a century.
I have documented some of Erdogan's attempts to turn Turkey into a Caliphate with himself as Caliph, such as replacing military leaders, jailing journalists who expose corruption and collusion with ISIS, attempting to shut down all criticism all over the world.
I thought it was too late for the military to rise up, but I am delighted they found a way. It was just a matter of time before Erdogan made a mockery of democracy and established Sharia law.
I am concerned as to what this means for migrants in Turkey, whether they will be allowed to flood Europe or not. I am concerned as to what it means for the Kurds, and I am concerned as to what ISIS will do if there is instability in Turkey. Taking control quickly, as they appear to have done, should help avoid that, but I expect ISIS to try to foment a rebellion.
They just announced that the military council will abide by all international agreements. That is a good sign.