Mahmoud Velitov. © Марат Ибатуллин / YouTube
An imam of one of Moscow's mosques, Mahmoud Velitov, has been put under house arrest by a court decision following his detention by Russian law enforcement. The Islamic worship leader allegedly justified terrorism during a public speech at his mosque.
The imam was detained in the Russian capital in connection with a criminal case against him, Russia's Investigative Committee announced on Tuesday. The head of one of Moscow's Muslim communities is being
accused of "public justification of terrorism," which is a crime in Russia,
the official statement said.
Is this a crime in any western country? If not, why not? Is it because we are too politically correct to stop shooting ourselves in the foot?
If found guilty, the imam faces up to five years in prison.
According to investigators, in September 2013 Velitov, while being a council head and imam of a religious organization, delivered a public speech during prayers at the mosque in north-eastern Moscow, which can accommodate some 2,000 worshipers.
In his speech, the imam allegedly justified activities of a member of Hizb ut-Tahrir al-Islami (Islamic Party of Liberation) group, which is considered a terrorist organization and banned in Russia.
The multinational radical group has presence in a number of countries, but is particularly active in Central Asia, where it seeks creation of an Islamic caliphate. -
Don't they all?
While investigation continues, the court has decided to put the imam under house arrest until late August, Interfax reported.
He has been forbidden to use any means of electronic communication, including internet, mobile and landline phones.
Velitov's lawyer, Dagir Khasavov, said the arrest endangered the imam's life, as he had recently had a "serious surgery." Writing on Facebook, the lawyer said both Velitov's home and mosque have been searched and Islamic literature seized.
There have been reports some extremist literature was found among the imam's belongings.
The arrest endangers Velitov's life - I wonder how many lives he has endangered with his promoting terrorism?
Illegal Muslim prayer hall blown up in Russia
after police find explosives inside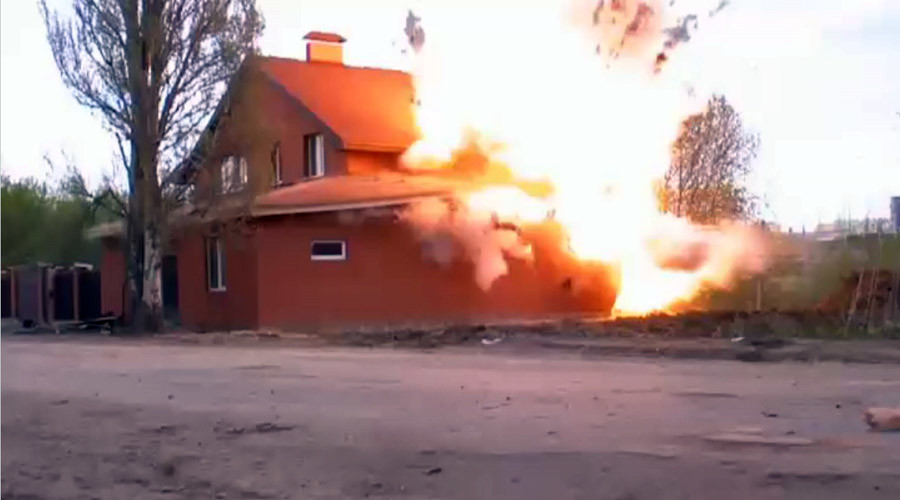 © FSB
Explosives found in an illegal Muslim prayer hall near the Russian city of Samara was eliminated right inside the building. Bomb disposal team deemed it too dangerous to take the explosives out.
The video of the controlled explosion shows a considerable part of the building being destroyed in the blast.
A police dog helped to find a cache with more than a kilogram of explosives of unknown origin. A bomb-disposal expert said extracting the explosives would be definitely unsafe and bomb technicians rolled in a water cannon, a source within Russia's Federal Security Service (FSB) told RT.
The federal highway M5 passing right in front of the house was blocked in both directions and people were evacuated from all nearby buildings.
The house was used for gatherings of Salafis, followers of an ultra-conservative movement within Sunni Islam, and it was not registered with the regional Muslim community as an official house of worship.
Inside the house, the FSB's special forces detained 53 young men, at least one of whom was promoting the Islamic State terror group online.
According to an FSB source, the arrests made at the illegal prayer hall triggered a series of house raids, which helped uncover more explosives, handguns, grenades and ammo.
The same source said other known members of that particular Salafi community are currently fighting in Syria for the jihadists.