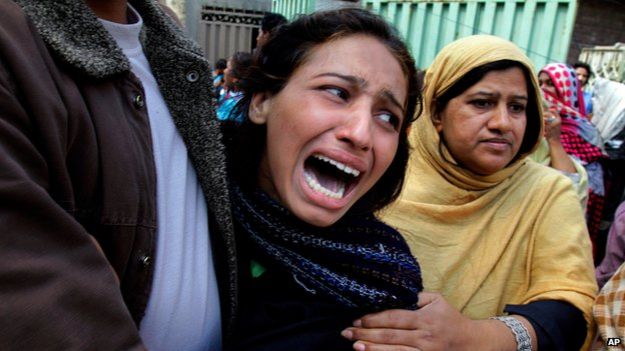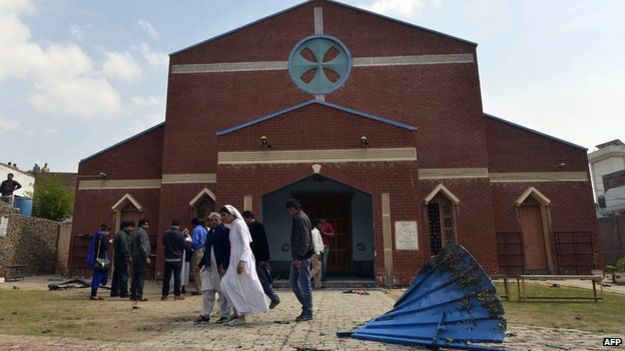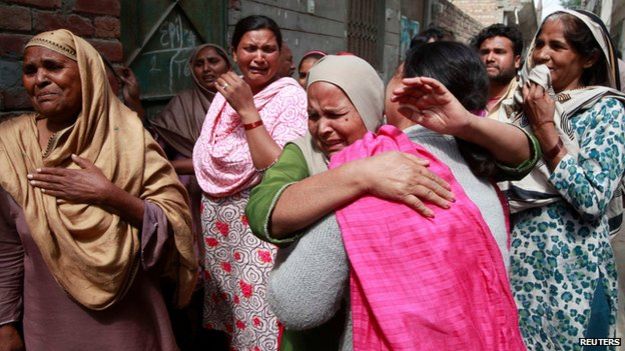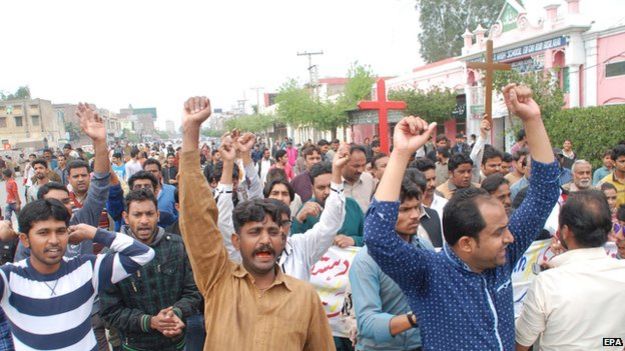 A large crowd gathered at the scene of the blasts, protesting about the lack of security.
The crowd also attacked two men it accused of involvement in the explosions, killing both of them.
Photographs from the scene showed a crowd setting the men's bodies alight.
Protesters carrying sticks blocked Lahore's Ferozepur Road. Local television pictures showed a bus station being attacked.
'Scuffle at church gate'
Amir Masih, a witness quoted by Reuters news agency, said he had heard an explosion near one of the churches.
"I rushed towards the spot and saw the security guard scuffle with a man who was trying to enter the church,"
he said.
The man blew himself up after failing to enter the church,
Mr Masih told Reuters.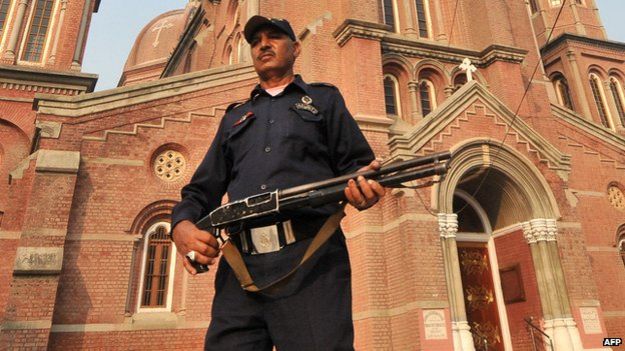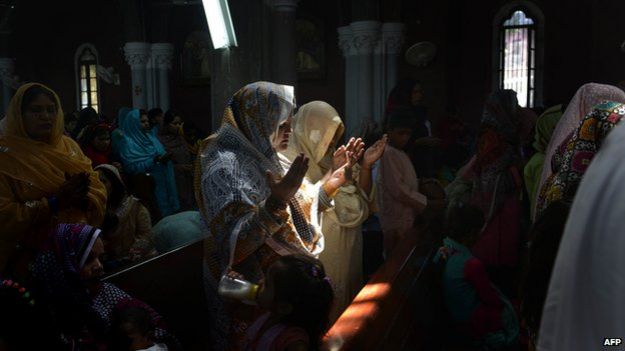 Pakistani Prime Minister Nawaz Sharif and President Mamnoon Hussain have condemned the latest bombings.
Tahir Naveed Chaudhary, the chairman of the Pakistan Minorities Alliance, a rights group, said the Lahore attacks highlighted the government's failure to protect minorities.
Pakistan's military last year began an offensive against militant bases in the mountainous north-west, bordering Afghanistan. Offshoots of the Pakistani Taliban have warned of attacks in response.
So, rather than responding by attacking the military, these cowards respond by attacking innocent civilians and churches. Such attacks reveal the 'evil' nature of militant Islam.
However, Lahore, the capital of the densely populated Punjab province, has largely escaped militant violence and is seen as a relatively peaceful city.
At least 80 people were killed by bombers at a church in the Pakistani city of Peshawar in 2013
, in what is thought to be the deadliest ever attack on the country's Christians.
Christians make up less than 2% of Pakistan's overwhelmingly Muslim population.
And yet, like Israel, a tiny island in a vast ocean of Arabs and Muslims, it is the center of attention, anger and hatred.
Just yesterday I wrote, "The increasing anti-Christian attitude is not isolated to India; it is happening in many countries, even so-called Christian countries. It is happening in parallel with increasing global antisemitism. It is a sign of the times!"
Christian persecution will get much worse before it gets better. I don't believe that we western Christians are even the least prepared for what is coming. We are too busy with our me-centered gospel and our obscene fascination with politics and entertainment to ever be ready for what is coming. God help us.