By Yvette C. Hammett
A 17-year-old suicide bomber failed in his attempt to blow up a
Roman Catholic Church in North Sumatra Sunday morning,
leaving a priest with only minor injuries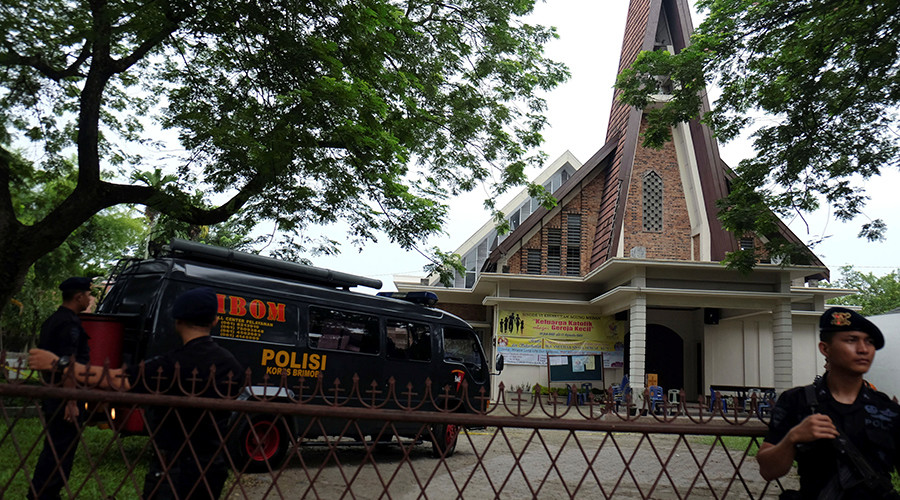 St Yoseph Catholic Church, Medan, Indonesia
JAKARTA, Aug. 28 (UPI) -- A 17-year-old suicide bomber failed in his attempt to blow up a Roman Catholic church in North Sumatra Sunday morning, leaving a priest with only minor injuries.
The bomber, who also sustained minor injuries, is in custody, thanks to the quick action of the congregation, Jakarta Globe reported.
Father Albert S. Pandingan was conducting the Sunday service at Medan's St. Yoseph Church when
the teen, strapped with a bomb, ran toward the pulpit and tried to stab the priest. The bomb, tucked inside the suspect's vest, failed to detonate. It created only sparks that injured the attacker, identified as I.A.H. The priest received some minor scratches to his arm.
"We have seized a backpack from the perpetrator," said National Police spokesman Insp. Gen. Boy Rafli Amar. "The perpetrator is alive and injured and there are no casualties in this incident."
Amar also said police found what appeared to be a drawing of the Islamic State flag, but it is unclear whether the student from Setia Budi in Medan Selayang, North Sumatra, is affiliated with a terror cell. Police are investigating any potential terrorist links.
Photos have shown the attacker lying bloody on the floor in the church after parishioners held him for police, Sky News reported.
Looks like parishioners more than just held him.
The teen had reportedly been sitting with members of the congregation prior to the attack, when he rushed toward the priest.
He was carrying an ax, a knife and a pipe bomb in his backpack.
This is the second recent suicide bomb attempt in Indonesia. A suicide bomber attacked the Solo police headquarters in early July before Idul Fitri celebrations, killing himself, but no one else.
Image from Google maps