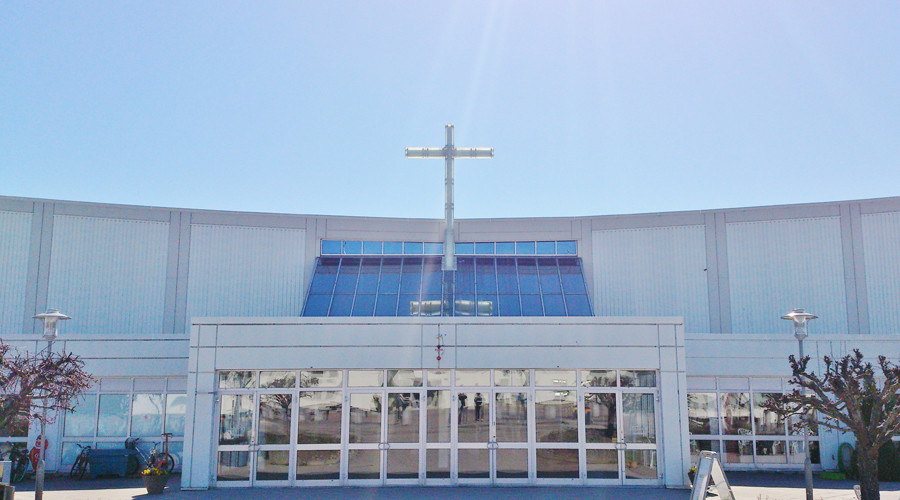 Livets Ord in Uppsala © Wikipedia
A Swedish church wants to bomb areas controlled by Islamic State in Iraq with mini-Bibles in Arabic. The church argues that people need a reminder that Christian love can reach them, even in places where they are being denied their freedom.
The Livets Ord (Word of Life) church in Uppsala proposes using drones, flying at high altitude, to drop the Bibles,
according to the Varlden Idag publication.
"The Bibles are the size of pill boxes and have a display. They require no electricity, but work on their own,"
Christian Akerhielmm, the mission's director, told SVT.
"Our ambition is to pass on the hope and love of the Christian gospel to a population living in closed areas where they are being denied human rights," he also wrote on the church's website.
"The Bible has been found in all its forms through time, and we want to spread the message to those who need hope, for the Bible's message gives hope."
He told the Varlden Idag that the project will get underway "in a few weeks, and [we] hope to drop thousands of Bibles."
Akerhielmm does not see the idea as breaking any new ground, remembering that Bibles were snuck into the Soviet Union. He also pointed out that the Word of Life does plenty of humanitarian work on the ground, which includes "education, [delivering] food and many other projects across the Middle East," he told SVT.
He also said another group would join the distribution of the Bibles, but stayed silent on the name.
Each Bible will cost around 150 kronor ($17.50), the church says. It has been collecting donations for the cause.
The Word of Life, founded sometime in the 1980s, is considered quite controversial in Sweden, due to critics believing it is a type of sect. It is also the Sweden's largest free church and runs a series of evangelical schools.
Their web-site says they were founded in 1983 with 20 people. They now have over 3000 members.
According to the Local, the church's founders Ulf and Birgitta Ekman abandoned their faith in 2014 and became Catholics.
According to a European Commission report cited by the Local,
only 23 percent of Swedes believe God exists.
Funny, Swedes appear to see nothing wrong with migrants believing in Allah, ie Satan, but the real God, well there must be something wrong there.