El Niño effect: Global temperatures hit record high for 8th month in a row
© Earth Science and Remote Sensing Unit, NASA Johnson Space Center.
Last month was the hottest May on file making it the eighth consecutive month to smash world temperature records.
The global temperature for May was 1.67 °F (0.93 °C) warmer than the May base period (from 1951 to 1980), according to data compiled by NASA's Goddard Institute for Space Studies (GISS).
This follows a warmer than usual April, which was 1.96 °F (1.09 °C) hotter than mean temperatures from 1951 to 1980.
Global temperature records have now been broken for eight straight months since the pattern began in October 2015. The world is on track to call 2016 its hottest year yet.
Climate scientist and director of GISS, Gavin Schmidt says
there is a greater than 99 percent probability that 2016 will break all previous heat records.
The string of record-breaking months is a consequence of El Niño
- a natural phenomenon that occurs every two to seven years through unusually warm water in the Pacific Ocean.
Gavin Schmidt @ClimateOfGavin
With Apr update, 2016 still > 99% likely to be a new record (assuming historical ytd/ann patterns valid).
The most recent El Niño event took place in the eastern tropical Pacific from late 2015 to early 2016 and was considered "very strong."
Strongest ever, in fact.
The weather event brought excessive rains and exacerbated drought in the Horn of Africa and in Southern Africa, sparking increased food insecurity according to the UN's Office for the Coordination of Humanitarian Affairs. It also prompted the spread of disease, including cholera.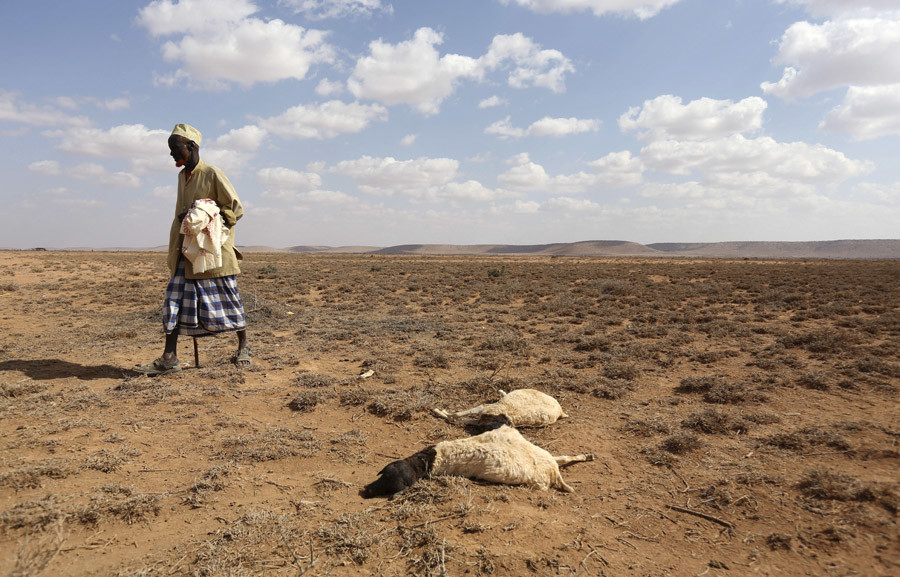 © Feisal Omar / Reuters
Australia's Bureau of Meteorology declared El Niño finished on May 24. However, the effects of the event drag on throughout the year because of a lag in the global response to tropical disturbances,
according to Schmidt.
NASA expects the current trend to subside shortly though and says it's unlikely that the next few months will be 'chart-toppers'.
Climate change has been raising the planet's temperature and GISS scientist Reto Ruedy estimates that global warming will catch up with the El Niño 2015 spike in less than 15 years.
This should be a good measure by which to determine the validity of GISS temperature forecasts. As I identified in
Global Warming - Getting Off the Fence, temperature increases are subject to 30 year cycles and we are in the midst of a 30 year period of little or no increase in the global temperature.
For global warming to catch up to the temperatures recorded in this El Nino event in 15 years, it would have to break a pattern that has been very consistent for the past 130 years. Good luck with that Reto Reudy.